La Dépannerie: your neighborhood solidarity grocery store
Bloc texte
What is a solidarity grocery store?
Bloc texte
Why this solidarity grocery project?
•  Following a consultation with users of our services, we noted that they often leave with the same type of non-perishable food. Lack of easy access to fresh food has been mentioned several times: this is how our solidarity grocery project emerged.
•  The Société de Saint-Vincent de Paul de Montréal wants to develop innovative projects and offer additional options to traditional methods of food assistance.
•  We hope to promote the notion of choice which is essential to us. We believe in empowering our users with dignity andtoward social inclusion.
•  One other fundamental objective is to break isolation. In our solidarity grocery store, it will be possible to meet, discuss, participate in educational and awareness-raising workshops related to healthy eating habits, all in an inclusive environment.
Make a donation
Bloc texte
Learn more...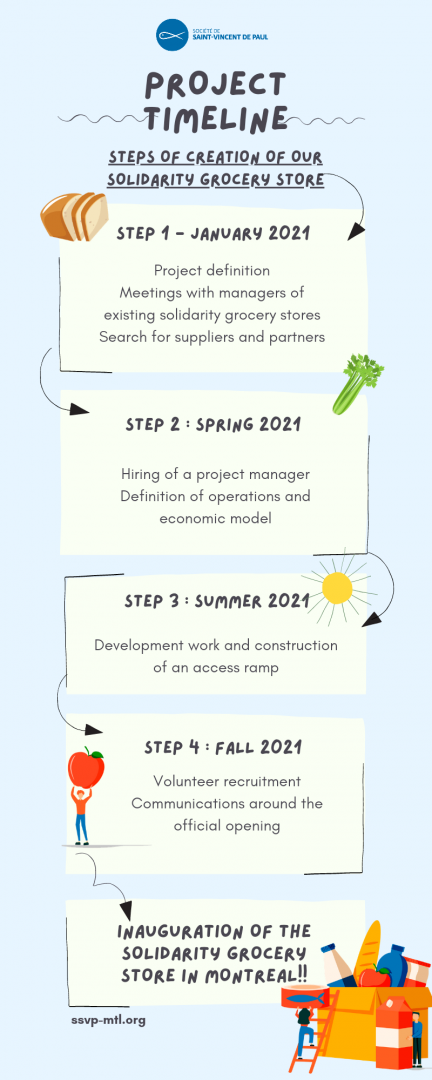 How does La Dépannerie works?
In order to contribute to the proper functioning of the solidarity grocery store and to guarantee its inclusiveness, access is open to all. However, two prices will be displayed to promote consumer buy-in and citizen involvement:
•  The first price, referred as "member's price", is intended for solidarity members which will give them access to products at cost price without any margin and competitive compared to traditional grocery stores.
•  The second price, qualified as "non-member prize".
To become a member, you must purchase your membership card from a $ 6 contribution (payable in volunteer time or in cash). For a contribution over $ 20 in cash, a tax receipt may be issued to you. There is not tax receipt for volunteer time.
Your membership card, valid for one year, allows access to member's price as well as to the activities offered at La Dépannerie such as popular education workshops, kitchen workshops, coffee corner, etc. (Upcoming programming).

Who can come to La Dépannerie?
The project is set up to meet the needs of people having economic difficulties, but the grocery store is open to all types of households (single people, single-parent families, large families, etc.).
Our goals
Increase physical and economic access to quality products for people living in poverty in the Center-Sud district of Montréal.
Improve the quality and diversity of the food offer in the Center-Sud district.
Offer food safety awareness activities to counter food waste.
Improve consumption habits and allow food purchases with dignity.
Encourage people's autonomy.
Promote volunteer and citizen involvement.
Fight against food waste.
Develop and strengthen partnerships with businesses involved in food in the neighborhood and in the Montréal region.
Our partners
Bloc image
Thanks to our support
Bloc texte
How to help us?
Donate online by clicking here.
Become a volunteer for the solidarity grocery store by writing here.
And don't forget to talk about the project around you!